Loading Cart...
Call Us Today - 800-452-8909
The Sharps Disposal By Mail System includes a sharps container, a government- approved return box, a protective 3-mil bag liner and a 4-part simplified Tracking Form. The cost of destruction and mailing, including confirmation of destruction, is included in the purchase price. When the sharps container is full, it is placed in thepostage pre-paid return box and sent via U.S. Mail directly to our treatment facility. The certified proof of destruction is then promply returned to you.
Advantages:
* Compliance with federal, state and municipal regulations
* Reduced handling of medical waste by employees
* Elimination of expensive or unnecessary pick-ups by medical waste haulers
* No contract requirement
* Convenient, timely and reponsible disposal
* Transpotation of waste via the U.S Postal Service
1 gallon
[ SBM1-11000-018 ]
2 Gallon
[ SBM2-12000-012 ]
3 gallon
[ SBM3-13000-008 ]
5 Gallon (for use with non-sharps biohazard waste only)
[ SBM5-15000 ]

30-Gallon TakeAway Recovery System
A versatile and cost-effective solution for the proper management of used healthcare materials including sharps containers. The new and larger system eliminates the need for a costly pickup service. When ready, simply use the included pre-paid return packaging to ship back to Sharps Compliance for proper treatment.
Advantages:
Reducescostsbyasmuchas50%or more

Is proven,convenient,and easy to use

Offers online tracking and proof of destruction

Confirmation via Sharps Tracer®
Features:
Hinged lid for easy operation

Embedded safety clasps for storage

Molded handles for easy carrying

Leak-proof and puncture resistant

Locking pin when ready to return for treatment

Made in the USA
Accommodates your existing sharps containers.
Holds up to 50 lbs. of both sharps containers and used healthcare materials.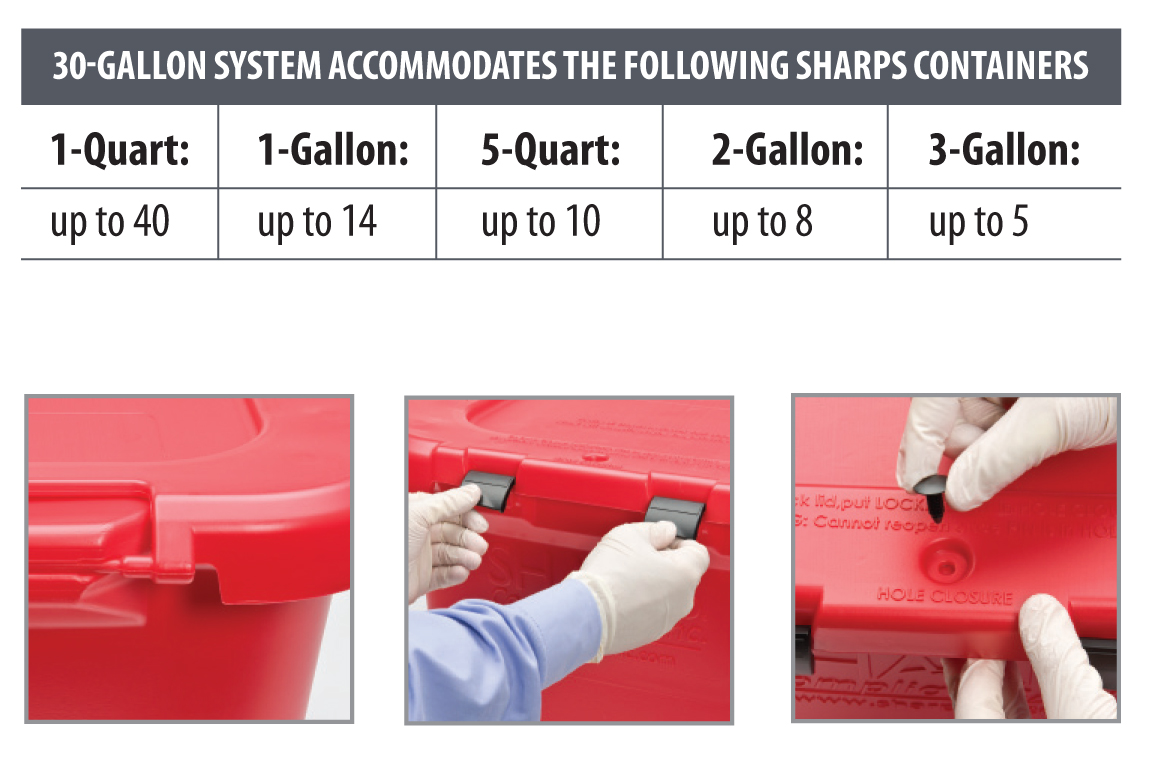 20-Gallon
[ SBM20-80020 ]
30 Gallon
[ SBM30-80020 ]